Rain Trance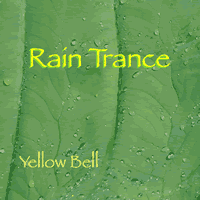 The second in the "Water Trilogy" series of Yellow Bell Meditation / Relaxation CDs. The 30-minute title cut 'Rain Trance' features the Egyptian bamboo flute over a live recording of a subtropical thunderstorm and a water splashing jam with Clay Pot, and Berimbao. The introductory piece 'Water Drum' uses the Chinese bamboo flute (Dizi), the Indian bamboo flute (Bansuri), Mbira and Bass Mbira, Gonkogui (African bells), the Gopichand from India, small Indian brass bells, Kanjira (small Indian tambourine) and of course the Water Drums from West Africa. The closing piece 'Water Bells' is a meditational soundscape employing only the sound of dripping water and the ringing of a large Indian brass bell with its beautiful overtones.
a beautifully transparent soundscape. ...a piece of music so serene and peaceful that it immediately takes you into a meditative space. ... a perfect compliment to any yoga practice
[Jaime Ehrenfeld, Feb/March, 2004 Enlightened Practice Magazine]
Above the interplay of ... melodic percussion instruments the Chinese bamboo flute called the Dizi weaves a sinuous melody... perfect for relaxation, meditation, and Yoga.
[Regina Rodriguez, Jornal Olho de Aguia]
To download the tracks below or the entire Yellow Bell CD of 'Rain Trance', on the download page.
| | |
| --- | --- |
| Water Drums | |
| Rain Trance II | |
| Water Bells | |
Read the complete reviews, about the musicians and instrumentation, and the compositions and recording of 'Rain Trance'.
For shipping within the USA:
Make a credit card payment through Paypal (choose "Add To Cart" above).
For shipping outside the USA: please e-mail me and I will let you know what the S & H charge will be. Please be sure to let me know your shipping address and the CDs you are ordering.