To listen to free samples and also download tracks please use this link.
World Fusion / Jazz and Meditation / Relaxation CD's, using woodwind, percussion, and string instruments from Asia (China, Bali, India, Pakistan), Africa (Kenya, West Africa), Australia, and South America (Brazil), in an exotic mix with sounds from Nature.
Listen to free samples on each CD's page and download single cuts!
These well-recorded, atmospheric world beat grooves are sure to appeal to listeners
[David Lewis, Cadence Magazine]
...deep, dark drumming, some very modern saxophone and some very ancient bamboo flute ...worldbeat meets modern jazz
[Bob Weinberg, City Link, Ft Lauderdale, FL]
The original music, by Richard Brookens... is powerful...
[Arlene McKanic, Greenwich Village Gazette]
...a cohesive soundscape that blends primal instincts and futuristic visions...a rich listening experience and a superlative album. Outstanding!
[Bill Binkelman, Wind & Wire Magazine, New Instrumental Music and Interviews. ]
Yellow Bell Music is honored to have two beautifully produced DVDs use music from the catalogue of Yellow Bell CDs. In both cases, my intention was for the music to support the intent of the DVD project, and create a beautiful soundscape for the film.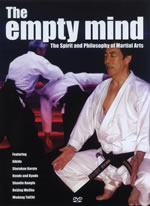 The Empty Mind is a dynamic fusion of Martial Arts, Music and Documentary Storytelling about the spiritual aspects of many different forms of Martial Arts. The film won "Best Florida Film" in the 2004 Fort Lauderdale International Film Festival (FLIFF). In addition to the interviews of many of the heads of different Martial Arts practices (Judo, JKS and JKA Karate, Zen Archery, Aikido), the film has never before seen footage of the Temples of Shaolin, Wudan Mountain, the Honbu Dojo and Training Halls of Japan, and the Kendo Championships at the Budokan. This is a film you will want to watch many times! Directed and produced by Jon Braely. Running time 78 minutes.
South Beach Pre-Natal Yoga presents a complete, safe, and effective 60 Minute routine led by Yoga Instructor Jess Elizabeth, with variations shown for each trimester of pregnancy, and a guided meditation and relaxation. There are also many Special Features that will be of interest to every pregnant Yogini whatever trimester she is in. Directed by Marla Mendez Reed, Produced by Michelle Jayme and April Ruane Crowley. Running time 94 minutes.
Woodwind, Percussion and String Instruments from around the world: Asia (China, India, Pakistan), the Mideast (Egypt, Turkey), Africa, South America, and Europe. Instruments listed here are all on Yellow Bell recordings. The concept of Yellow Bell recordings is to combine these instruments in new and unique ways, resulting in a style of music that is truly World Fusion.
The links for each type of instrument provide free sound samples and pictures, descriptions of how the instruments are constructed and played, the historical significance of each instrument, and names of musicians who define the instrument from long ago to the present.