bamboo dynasty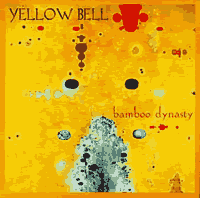 Features Richard Brookens on Bamboo flutes from India and China, Soprano Saxophone, Alto Flute, synthesizer, and percussion. This CD also features instruments from around the world such as the African Djembe, Australian Didgeridoo, South American Berimbau, and Asian Gongs. The compositions utilize influences from Flamenco, Mid-Eastern, Jazz, and African music.
This is truly wonderful world fusion music as it embraces the real meaning of fusion. Completely disparate elements come together to form a cohesive soundscape that blends primal instincts and futuristic visions.
[ Bill Binkelman, Wind & Wire Magazine, New Instrumental Music and Interviews.]
Read the complete review, about the musicians and instrumentation, the compositions, and the recording of 'Yellow Bell / bamboo dynasty'.
For shipping within the USA: Make a credit card payment through Paypal (choose "Add To Cart" above).
For shipping outside the USA: please e-mail me and I will let you know what the S & H charge will be. Please be sure to let me know your shipping address and the CDs you are ordering.